June 15, 2015 Update: We Did It!!!
May 2015 Update: See our Phase 1 illustration here, and our Phase 1-2 here!
Please see our playground website: www.bowenplayground.com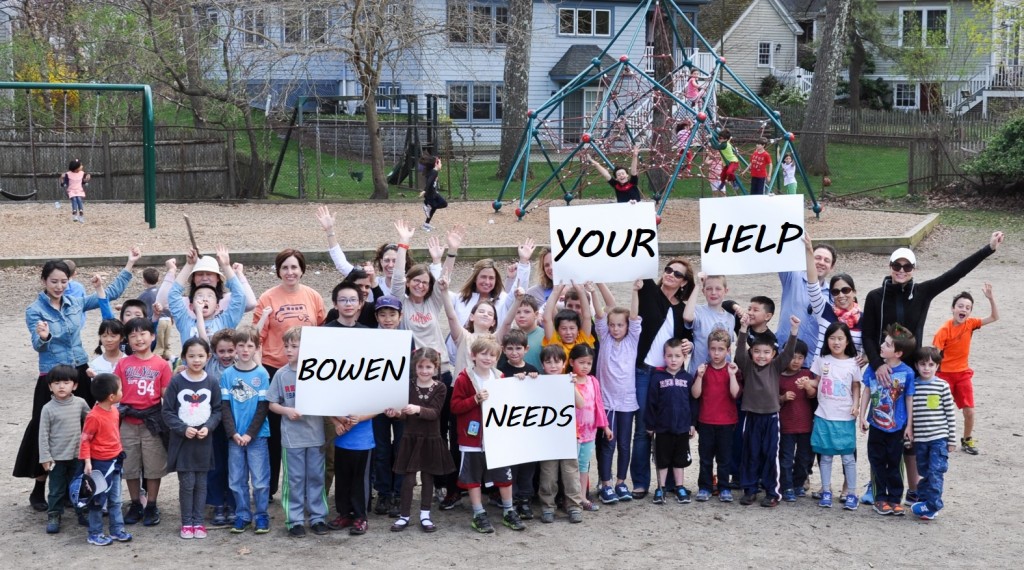 With over 475 students, Bowen Elementary School has one of the largest student body of any primary school in Newton. The tower play structure was taken down this year.  It was made of wood that had reached the end of its lifespan.The lower field, which is the main play space for the students, has been dirt, mud, or ice. Bowen's current playground simply does not meet the needs of its substantial community. We surveyed parents and teachers, and they told us their priorities:
Fix the lower field mud
Create a physically challenging play area
Make it inclusive of children of all ages and abilities
Foster more cooperative social play
We also surveyed the students, and they told us that they wanted: more swings; more slides; a new play structure; no more mud and ice; more blacktop and more space for basketball.
Based on this input, our vision is to:
Create a play space that encourages collaborative and imaginative play,
Provide opportunities for children K-5 to be physically challenged, and
Build a design that is accessible and inclusive for a wide range of ages and abilities, serving a large and diverse student & community population.
To achieve this Vision, the Bowen PTO hired landscape architect Joanne Hiromura, RLA, Director of Landscape and Outdoor Playspace Design at award-winning studioMLA Architects, to develop a comprehensive design to solve these problems.  In partnership with the city, we have a plan in three phases:
PHASE 1 (SUMMER/FALL 2014): The City of Newton has repaired the irrigation, prepared the soil, and laid new grass sod. We have installed a new double disc swing, and we have built a new full basketball court and a new half court. (The old basketball court is no longer functional because of the placement of the modulars and the school traffic).  The new basketball courts and swings will help redistribute play to help the new grass grow and endure.
PHASE 2 (SPRING 2015): Install a new fully accessible climbing play structure.
PHASE 3 (2015-16): Develop the adjacent wooded area into an ecological and collaborative natural play environment including an embankment slide, walking paths, and areas for outdoor learning.
Finally, to further beautify our playground, attract families from across our city and recognize our exceptional students and teachers, we will commission an outdoor art installation.