Welcome to the Bowen PTO. We are looking forward to a great year with our vibrant Bowen community. There are many programs, events and initiatives planned for the year that will enrich our student's experience and enhance our Bowen community. We whole-heartedly invite you to participate in PTO activities throughout the year and thank you for taking the time to be involved. It is a sure way to put a smile on your child's face.
October Program Highlight
Voci Angelica Trio
Creative Arts and Sciences will be hosting the Voci Angelica Trio on October 17th performing "Passages", an interactive, educational performance of world folk music from nine countries and six continents. Parents and younger siblings are welcome to attend. Please see the PTO newsletter for more information.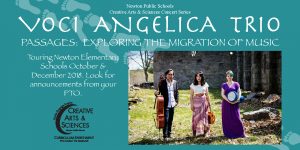 Upcoming Social Event
Halloween Dance Party
Join us for the annual Halloween dance party on October 28th. Come in your most creative, spooky, fabulous costume for our dance party and costume contest. Information is coming home via flier in your child's backpack. See the PTO newsletter to sign up to help make this a spookily successful event. 
Fundraising Event 
Bowen Walks the Walk
Please support the Bowen PTO through our annual fundraiser walk. Students take pride in completing laps on the Bowen upper field while knowing their sponsorship will contribute to the Bowen community's PTO funds. Money raised will support PTO programs such as Creative Arts and Sciences, community events and other programming throughout the year. Please support your student and the Bowen Community.